What was once a typical, intimate gathering of students, faculty and alumni in Armstrong Hall transformed into a large-scale event with more than a hundred attendees in an entirely rented out local park, John S Watson Park, on Upper Ferry Road. By inviting all alumni, faculty and "every single student in the department" this year, the Department of
Technological Studies and STEM Educator's Society jointly decided to "go big" with their annual picnic, according to STEM Educator's Society President junior Technological Studies major Matthew Halfacre.
"The Fall Picnic is a proud tradition and an important part of our department culture," said Chair of Department of Technological Studies Dr. Matthew Cathell.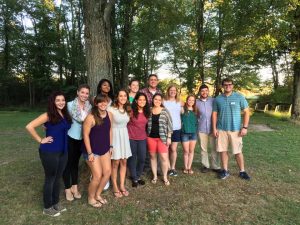 "[For this year's] picnic, we decided to try to go back to what the picnic used to be," noted Halfacre. "A massive beginning-of-the-year event that serves as the starting signal for the year."
The beautiful, sunny afternoon picnic allowed students, faculty and alumni to connect and socialize with one another through participation in various field games, such as volleyball and giant Jenga.
"It [the picnic] gives students a way to interact with their professors that isn't inside of a classroom, and vice versa," said Halfacre. "It shows alumni that the school and club still thinks about them and wants them to make connections with their future peers in the field of Technology and STEM education."
Due to the success of the picnic, Halfacre and the STEM Educator Society team hopes to hold more all-inclusive events in the future to further strengthen STEM and Tech Ed comradery. The club's goal is to attain as much student body
participation as possible, Halfacre said.
STEM education is so important because current issues require technologically interdisciplinary solutions. For students to figure out what they need to achieve in a certain situation "it is crucial to educate and instruct people on how the fields can be used together," continued Halfacre. By hosting events, like this picnic, STEM students are encouraging communications and working together across specializations .
"It was very rewarding to be involved in the planning process that could bring so many students, past and present, together," observed Halfacre.