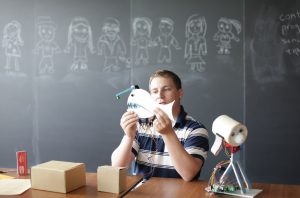 Being an efficient tech educator is more than creating a general curriculum or simply teaching a lesson; it's also being a positive leader in an educational environment, explained first-year assistant professor Dr. Tanner Huffman of the Integrative STEM Education department here at the College.
"There are teachers that are really great teachers and also great leaders and influencers. They are able to influence a school system and the teachers around them," Huffman explained. "And TCNJ builds teacher leaders, not just teachers."
Before starting his teaching career, Huffman earned his Bachelor's in Technology Education at the California University of Pennsylvania and his PhD for Engineering and Technology Teacher Education at Purdue University. In between earning his degrees, Huffman worked as a classroom teacher for grades 7-12 for seven years in central Pennsylvania. There he delved into exploratory engineering by teaching lessons on robotics and Computer Aided Design and Drafting (CADD).
Huffman's interest in Tech Ed stemmed from his inclinations towards technical fields in high school, yet his interests cultivated into something more serious after his sophomore year of college when he taught a fun and memorable lesson to third graders about the process of manufacturing fudge. "It was really a kind of life turning experience," commented Huffman. "From that point on I was much more driven about education and education for all children."
"A teacher of elementary or high school students will have an impact on the kids of their classroom," Huffman said, but for him, the "next logical step was to teach teachers how to be effective teachers" in order to have the most widespread impact on students.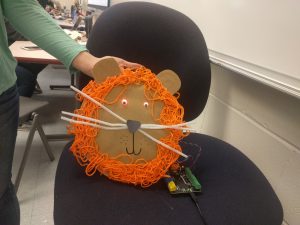 At the College, Huffman teaches courses Creative Design, Society, Ethics and Technology and graduate course Integrative Stem Curriculum.
"The course brings people from all over campus – a mix of education, engineering, business, humanities, fine arts," Huffman said, highlighting Creative Design. "It's really a wonderful space to engage in design thinking."
With students from different types of backgrounds participating in an engineering class, they are able to learn skills that perhaps they would not have normally encountered or expected to learn in their own major-oriented classes. "Experiences like this can help and provide them with confidence in their own ability in a technical field," Huffman said. "I want them to have an experience that awakens their confidence."
Building the confidence needed to immerse in learning and practice is an endeavor Huffman practices both in and outside the classroom. Collaborating with Dr. Figueroa, also of the Tech Studies department, Huffman studies "building the creative and confidence capacity in future teachers," Huffman said. The goal is to view the creative design process with a particular audience in mind. Such as creating optimal curriculums and design projects for students with disabilities, Huffman explained.
Creating a positive, productive space where all populations of students may collaborate and learn is one of Huffman's most significant objectives in the classroom. "You need to have an interest in helping people," said Huffman, "You don't get into education for the money or accolades – you get into it because you care."
Through his positive experiences with the College so far, Huffman sees a progressive path for the recruitment and enhancement of future tech educators.
"Everything I do always go back to how can I help children that can't always help themselves," reflected Huffman. "At the end of the day, it's about achieving social justice for all children through education."