First-year Technology and Engineering Education student Adam Cunard (TEE '25) built and entered his handmade robot at the 2022 Motorama Robot Conflict. Robot Conflict is an opportunity for competitors to create remote controlled robots designed to destroy opponents using a combination of strategy and weaponry. The goal is to deal the most damage to its competitors while also absorbing any destruction. 
The Motoroma show took place in Harrisburg, PA and the 2-day event is one of the largest combat robotics competitions on the east coast. Robots weighing up to 30 pounds battle in a high tech arena surrounded by bulletproof plastic and steel. This event was filled with double elimination competitions featuring 7 different weight classes until there was only one robot standing. 
For his robot, called "Shroud", Adam designed some pieces using computer aided design (CAD) technical drawings. With guidance from TCNJ's resident machinist, Joe Zanetti, Adam cut polyethylene parts out on the Water Jet CNC Router. 

Adam's completed part and CAD sketch.
Recalling his time at Motorama, "The competition went well. Even though we went 0-2, both were high caliber fights. I got to fight one of the BattleBots competitors from the TV show and went the full 3 minutes. Other builders told me that not only that they loved the design, but that my fight with the builder from Battlebots was one of the best fights of the day. I definitely have a few revisions in mind for the next few competitions."
Adam also competed at a First State Fights #3 competition where he placed first with another robot design. "This competition was a different weight class. It's called 'plastic ant'. Antweights are the 1 pound weight class and the plastic antweights all have to be 3D printed, weapons, armor, everything. The robot I made was a four wheel drive wedge, with interchangeable attachments based on what kind of robot I fight. The basic design of the body is actually very simple, but it's really fun thinking of different scenarios and designing different attachments. 'The Captain' went 6-1 at First State Fights #3 to get first place."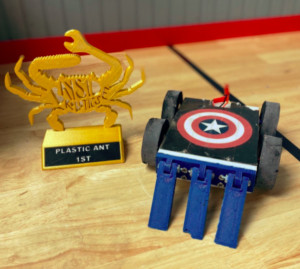 Adam's first place trophy with his robot "The Captain".
Be sure to check out a video from Adam's battles here on the TCNJ Department of Integrative STEM Education Facebook on the post from 2/25/22.
– Anisa Lateef '22
Adam Cunard (Technology & Engineering Education '25)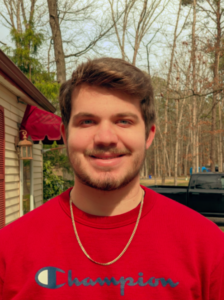 How did you choose the Technology & Engineering Education major & what do you like about the program so far?
I chose the Technology & Engineering Education major for two reasons. The first is that I really wanted to have an impact on the next generation, and the second is that I've always enjoyed building and making things. I've been blessed to have some amazing role models in my life and the ability to be that role model while simultaneously teaching something I love, made this major the perfect fit for me.
How long have you been involved in BattleBot competitions?
I've been building and competing with combat robots since the summer of 2014.
What are some design features that are important in designing a BattleBot?
Especially in the smaller weight classes, making sure that the battery is secured and protected is absolutely essential. If a robot's battery becomes exposed, the match is stopped immediately for safety reasons, resulting in a loss. It may sound simple, but another important design feature is making sure that any and all motors are secure. Having some sort of backup plan or secondary plan of attack is also optimal. Wedges are very common for this exact reason. Unless you're willing to take that gamble, it's always good to have a way to fight back when the chips are down.
What improvements will you make to your robot for the next competition?
There are a few changes that I would like to make before my next competition. The first and probably most important is to countersink the bolts that hold the two front wedges on. In both of my fights, the heads of the bolts got ripped off resulting in the wedges falling off. The second will be to replace the current battery with two smaller ones wired in parallel. This will allow more space for the other electronics that were very tightly packed, and allow for the possibility of being able to add another cell to the batteries. There is a lot of empty space by the drive motors where they would be well protected. Looking forward to the future, I would like to design and manufacture my own drum instead of using a pre-made one. I would also like to design an attachment that allows me to combat other drum spinners, considering that is the only weapon my robot is not designed to face. And maybe anodize the Titanium wedges for some aesthetics.
What would be your ideal teaching position?
I would love to be able to build some of these combat robots with high school students. I want to be very hands-on with my teaching. Being able to talk about design concepts, problem solving, and other elements while actually building what we design would be a dream come true.
If you are an engineering student and did something awesome you want us to know about, email us at: soengweb@tcnj.edu.